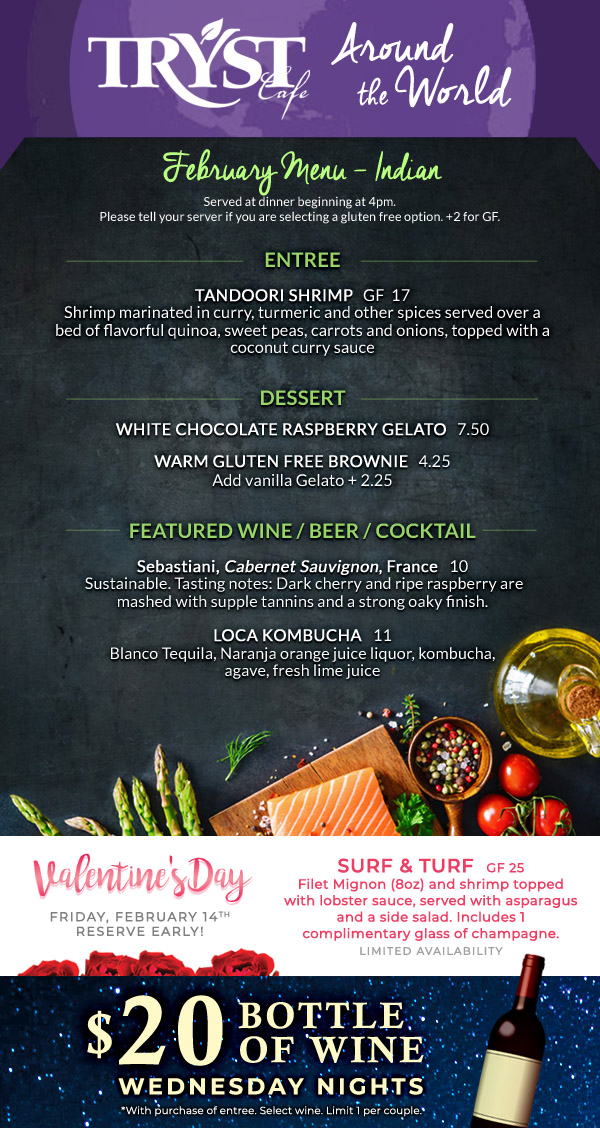 Tryst Around The World – Indian February Menu
Served at dinner beginning at 4pm. Please tell your server if you are selecting a gluten free option. +2 for GF.
ENTREE
TANDOORI SHRIMP GF 17
Shrimp marinated in curry, turmeric and other spices served over a bed of flavorful quinoa, sweet peas, carrots and onions, topped with a coconut curry sauce
DESSERT
WHITE CHOCOLATE RASPBERRY GELATO 7.50
WARM GLUTEN FREE BROWNIE 4.25
Add vanilla Gelato + 2.25
FEATURED WINE / BEER / COCKTAIL
Sebastiani, Cabernet Sauvignon, France 10
Sustainable. Tasting notes: Dark cherry and ripe raspberry are mashed with supple tannins and a strong oaky finish.
LOCA KOMBUCHA 11
Blanco Tequila, Naranja orange juice liquor, kombucha, agave, fresh lime juice
—
Valentine's Day Surf & Turf Special!
Filet Mignon (8oz) and shrimp topped with lobster sauce, served with asparagus and a side salad. Includes 1 complimentary glass of champagne. GF 25. Limited availability.
Reserve now! Regular menu also available.