The Phoenix New Times is now taking nominations for The 33rd Annual Best of Phoenix® Readers Poll and Tryst is not shy to say we believe we qualify for the category of Best Breakfast!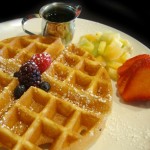 Why do we deserve to be nominated for Best Breakfast in Phoenix? Many reasons…
We understand that what you choose to eat for breakfast is important, affecting your physical and mental performance, your mood, your weight and ultimately, your long-term health. We know that a good breakfast gives you the vitamins and minerals you need for good health and the energy you need to face the day.
We have seen the research which shows that eating first thing in the morning helps to stabilize blood sugar levels which control energy and appetite.
Our menu offers the starchy foods that provide you with B vitamins, energy, fiber and iron. Our bagels, English muffins, flapjacks, Belgian Waffles, French toast, cereals and Steel-cut oatmeal are all good sources of energy that will help you kick-start your metabolism. Oh, and did we mention they're all low in fat too?
We offer plenty of fruits and vegetables which are good sources of fiber and vitamins. Breakfast is a perfect time to start with at least one of the recommended five portions a day of fruits and vegetables. You can start your day off right with our fruit salad or yogurt parfait served with seasonal fruit. At Tryst, you also have the option of drinking your fruit! If you like it simple, start with a glass of cranberry or apple juice. For a bolder move, go with a strawberry-banana or seasonal fruit smoothie or our Pomegranate Acai Blueberry or Kiwi-Passion Fruit Kefir!
Our menu offers plenty of choices in the milk and dairy category to give you B vitamins, calcium and protein. You can get these benefits from our Yogurt Parfait or Kefir drinks which are yogurt-based. If you like eggs, our omelet dishes are oozing with calcium-rich cheese! Try our Cheesy Omelet with pepper jack, Gruyere and white cheddar, our Veggie Omelet with yellow cheddar or our Tryst Omelet with buffalo mozzarella.
We offer plenty of dishes with meat, fish and eggs which are great sources of iron, protein and vitamins. For a high-protein breakfast, we have many options including our Chorizo and Eggs, Meat Lovers Omelet, Steak and Eggs, Breakfast Burrito, Hawaiian Breakfast and Monte Cristo.
With all we do to serve you a good breakfast to help improve your concentration, mental performance and mood, we hope you will nominate us for Best Breakfast!
To submit your nomination, click here. Thank you and enjoy!