Tater tots; you loved 'em as a kid and just never grew out of it. Tryst Café has a great spin on these delicious little morsels that will have you coming back for more, guilt-free!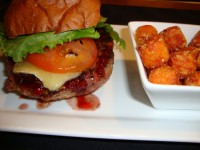 Besides the dance they do with your taste buds, there are plenty of other benefits to enjoying our sweet potato tots!
The orange-fleshed sweet potatoes are one of the most prolific, natural sources of beta-carotene in existence. Studies have shown sweet potatoes to be unrivaled in their ability to increase blood levels of vitamin A. An African study showed that every 3.5 ounces of sweet potato meets 35% of all vitamin A needs!
If you want to enjoy the full beta-carotene benefits of sweet potatoes, it's important to have some fat in your meal containing this vegetable. (Enter, Tater Tot!) Recent research has shown that a minimum of 3-5 grams of fat per meal significantly increases your absorption of beta-carotene from sweet potatoes.
But, truth be told, some nutritional benefits from sweet potatoes require steaming or boiling. Recent studies show that steamed sweet potatoes preserve anthocyanins very well. (Anthocyanins have excellent health benefits as anti-inflammatory nutrients and antioxidants).  In addition to the benefits of steaming, blood sugar effects, including a lower glycemic index, have been found with boiling sweet potatoes.
Sweet potatoes are known to contain sporamins-storage proteins, and recent research has shown they also contain unique antioxidant properties. These sweet potato sporamins can help prevent oxidative damage to cells when subjected to physical damage and help promote healing.
Enjoy some of the health benefits, as well as the irresistible taste of our sweet potato tots, when you order:
Portobello: Lettuce, portobello mushroom, grilled tomato, onion and avocado served on a ciabatta with sweet potato tots
Grilled Cheese: Pepper jack, white cheddar, tomato and avocado on brioche served with sweet potato tots
Turkey burger, brie cheese, strawberry jam, lettuce and tomato served with sweet potato tots
And remember, if you've got your eye on some other item on the menu, you can always get the sweet potato tots as a side order. They're a great complement to any of our dishes.