In case you're a child of the 70's and you think a "smoothie" is just the opposite of a "boogie", let us explain…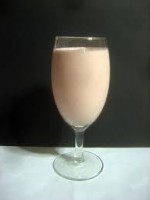 The concept of the smoothie actually first appeared around the 1930s when health food stores on the West Coast began adapting Brazilian recipes and selling these pureed fruit drinks. Recipes for a "banana smoothie" and a "pineapple smoothee" first appeared in the 1940s Waring "Blendor" cookbooks. The smoothie was popularized in the 60s and became main stream in the 1990s when they were sold in coffee shops, cafés and grocery stores as pre-bottled drinks.
A smoothie is a chilled, blended, sweet beverage most often made from predominantly from fresh fruit. Now and then, you'll find folks making smoothies from vegetables or with chocolate. Smoothies include crushed ice, frozen fruit and honey. They also often contain yogurt or milk and sometimes even ice cream. They have the consistency of a milkshake.
At Tryst Café, our smoothies have a base of the traditional plain (Greek style), organic yogurt which gives them a thick, creamy texture. We like to use this Greek style yogurt because it improves lactose intolerance, enhances immunity, promotes intestinal and vaginal health, builds stronger bones, lowers blood pressure, and may even have weight-loss and anticancer benefits. An added benefit of Greek yogurt is that it has less sugar than standard yogurt.
We get orders from our youngest to our oldest customers who come to Tryst especially for our smoothies either because of their fresh fruit flavor, the sweetness or the nutritional value (they're high in vitamins, dietary fiber and antioxidants.
Our smoothies are made to order! We are currently offering strawberry/banana and mango smoothies, but we do try to accommodate special requests. Many of our customers like to mix all three fruits together. Others request to make their smoothies without the yogurt, to eliminate the dairy.
No matter what your preferences, we hope you will stop in soon to enjoy one of these delicious, refreshing, nutritional beverages!