You know it's some fancy French dish, but there's more to this scrumptious dish than being able to pronounce it.
The first reference to crème brûlée was in the 1691 cookbook of François Massialot and also used in the English translation of Massialot's book. Curiously though, the 1731 edition of Massialot's Cuisinier roial et bourgeois used the name "crème anglaise" rather than crème brûlée. The dessert was called "burnt cream" in English in the early eighteenth century.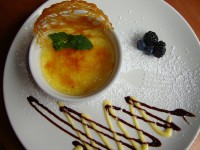 At Trinity College in Cambridge, England in 1879, a recipe Crème brûlée from an Aberdeenshire country house was offered to the college cook by an undergraduate. As the story is told, the cook turned it down until the student became a Fellow! This version of crème brûlée was known as 'Trinity Cream' or 'Cambridge burnt cream'.
Crème brûlée is a decadent dessert consisting of a sweetened egg custard topped with caramelized sugar. It is sometimes called "crema catalana", "Trinity cream" or "burnt cream". It is made from a rich custard base and topped with a layer of hard caramel. The custard is generally flavored with vanilla but can also be flavored with coffee, chocolate, rosemary, orange or lemon zest, liquors or various fruits. The color of custard changes depending upon what flavoring is added.
The common feature of all crème brûlées is the burnt sugar topping. The caramelized sugar becomes the unmistakable deep brown color of burnt sugar. The caramel can be formed directly on top of the custard immediately before serving, or discs of caramel can be prepared separately and put on top before serving.
Tryst Café serves crème brûlée in the classic style; in a white ramekin. The presentation, as you see in the picture, is as stunning as the taste! (Oh, and did we mention it's both organic AND gluten-free?!)