Tuesdays 7-8AM  June 11, 18, 25 at Tryst Cafe Chandler
$10 per person – includes complimentary coffee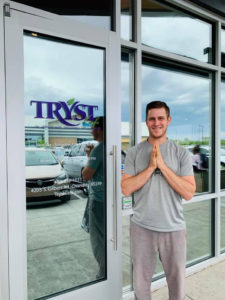 A NEW refreshing, way to start your day!
Every Tuesday morning from 7 to 8 am. Nicole Anne Yoga – a mobile yoga company – will offer a 45-minute Yoga Nidra class at the Tryst Café in Chandler to help individuals release the chatter of their minds and enjoy a feeling of deep relaxation. Increase your energy and focus! This is your personal time to meditate before you start your work day!
Yoga Nidra is a guided, sleep-based meditation that uses a series of body, breath, and awareness techniques. Some say that participating in 45 minutes of Yoga Nidra can be as restorative as three hours of deep sleep. This wonderful Yoga Nidra class will be done right from your seat! It's open to everyone – all ages and fitness levels. And if you're a working professional, come dressed for work. No need to bring any yoga supplies or gym bag. This is great for beginners who want to learn how to meditate!
Tryst Café also has a wide variety of healthy food options that can be enjoyed after the Tuesday morning meditation. Grab a smoothie to go or stay for a great breakfast! Network with other working professionals and start your day on a different note, stress free!
To register or get more info, call / text (847) 840-7277 or visit nicoleanneyoga.com.