Tryst Around The World – come in for our Native American-inspired menu this November!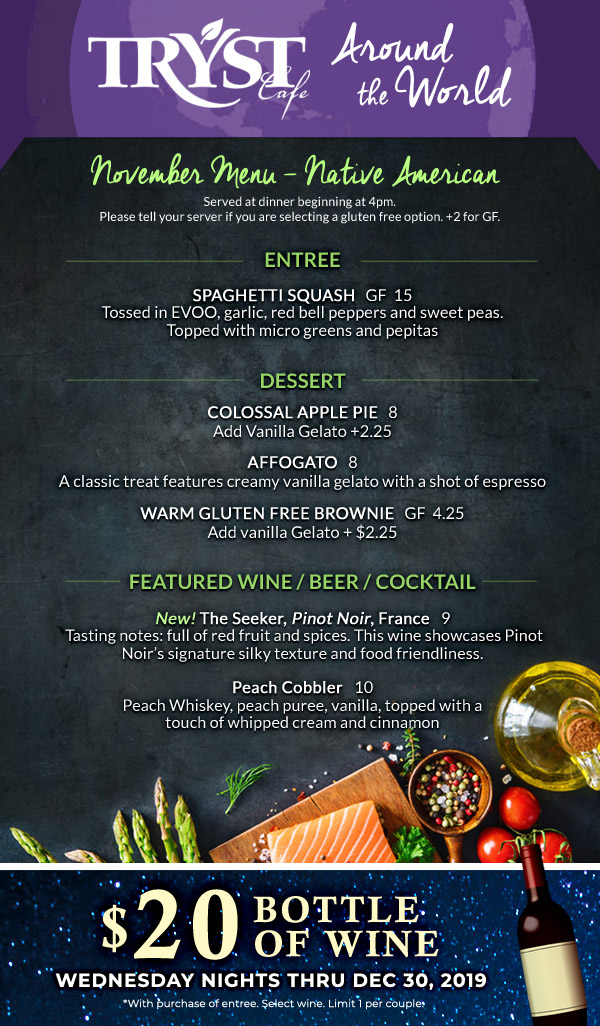 ENTREE
SPAGHETTI SQUASH GF 15  – Tossed in EVOO, garlic, red bell peppers and sweet peas. Topped with micro greens and pepitas
DESSERT
COLOSSAL APPLE PIE 8 –  Add Vanilla Gelato +2.25
AFFOGATO 8 – A classic treat features creamy vanilla gelato with a shot of espresso
WARM GLUTEN FREE BROWNIE GF 4.25 – Add vanilla Gelato + $2.25
FEATURED WINE / BEER / COCKTAIL
New! The Seeker, Pinot Noir, France 9 –  Tasting notes: full of red fruit and spices. This wine showcases Pinot Noir's signature silky texture and food friendliness.
Peach Cobbler 10  – Peach Whiskey, peach puree, vanilla, topped with a touch of whipped cream and cinnamon