We know what you're thinking; "Why 'Tryst Café'? Isn't that a little suggestive?" Well, it could be, but where's YOUR mind?!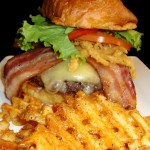 Merriam-Webster points out that the origin of the word "tryst" goes all the way back to the 14th century. Then, the Middle English "triste" referred to an appointed station for hunters. The term likely came from "trist" or "trust".
Fast forward about seven centuries and we find two somewhat different uses of the word. The first current definition of "tryst" according to Merriam-Webster is: an agreement (as between lovers) to meet. As if it needs an example… "Both lovers had to hurry to keep their noontime tryst in the park."
Just as you suspected, right? But before jumping to conclusions about the purpose of our charming café, let's take a look at Merriam-Webster's second definition of "tryst": an appointed meeting or meeting place.
Aha! Now the REAL Tryst Café is beginning to come into focus! Tryst Café is the perfect meeting place for your extended family to gather, enjoying $5 breakfast items for the kids, standard favorites like Flapjacks and unique specialty items like our Hawaiian Breakfast.
For lunch, meet your colleagues or the "ladies who lunch" for our gluten-free Beet Salad made with organic arugula, roasted yellow and red beets, goat cheese and tossed with honey lime vinaigrette. The carnivores in the group may prefer to try our irresistible Bring it On Burger served with capicolla ham, buffalo mozzarella cheese, roasted tomato and pesto sauce and served with waffle fries.
At the end of the day, meet up with the gang for an unbeatable happy hour to enjoy $5 small plate appetizers, select glasses of wine and cider as well $3 select beer.
With your appetite whet, settle in for a cozy dinner with your sweetie, retelling the tales of the day over Grilled Mediterranean Chicken with rice and green beans topped with cucumber, roasted tomato, carrot, and goat cheese salad and drizzled with tzatziki or Shrimp Tacos with pepper jack cheese, cabbage, pico de gallo and chipotle ranch dressing served with rice and beans.
While we don't condone exploring the first modern definition of a Tryst, we do hope you'll enjoy the second definition, meeting up with friends and family for some memorable times at Tryst Café.
(Next, we'll delve into "The Affaire". Not sure how we'll talk our way around this one though…)